TimsonsCPI brings together two of the world's leading companies in book press manufacture and print.
Established in 1896 the Timsons Group has been at the vanguard of printing press design and manufacture since the 1950s. The launch of its renowned T32 and subsequent T48 and T48 ZMR machines set the gold standard for modern book presses. The technology developed by Timsons remains unsurpassed, offering unrivalled performance and efficiency.
CPI has built a reputation for innovation and dynamic thinking within the print sector. They strive to create value for their customers by constantly challenging, modernising and improving traditional processes. Embracing both lithographic and digital print solutions, CPI is a leading light in the industry.
2021 sees Timsons return to manufacturing its eponymous book presses in partnership with CPI, a move welcomed by book printers around the world. Using the combined resources of both companies allows TimsonsCPI to provide the ultimate lithographic solution.
The T48A brings productivity and waste reduction to book printing, whether you are looking for long run reliability or short-run flexibility. The press is a modular system, buyers can choose from a wide range of web widths, print cylinder circumferences and folder types. This allows the creation of a tailor-made press ideally suited to the required printed book format, minimising waste and providing the vital competitive edge that modern book printing demands.
Timsons' book presses are engineered to the highest possible standards through robust hand-built construction with thick, cast iron frames and stainless steel print cylinders. This ensures consistent print accuracy and long-term durability. The majority of Timson presses made in the last 40 years are still in daily use around the world today.
A vertical web path and Timsons' simultaneous plate changing system (SPCS) are designed for profitable production of shorter runs. SPCS enables plate changing in under three minutes with minimum effort.
Standard print cylinder circumferences range from 34.5" (876.3mm) to 57" (1,447.8mm)
Standard web widths range from 40" (1,016mm) to 60" (1,524 mm)
The T48A is designed with rollaway inkers to give the printer complete access to the inking and dampening systems. Semi-automatic web threading keeps downtime to a minimum.
Flexibility in Folding - there are many options in this area to choose from, including long grain fold with three sides open, single and double parallel cross fold and single cross grain fold plus chopper fold.
State of the art independent drives, along with the latest PLC controls and an operator friendly H.M.I. contribute to efficient press operation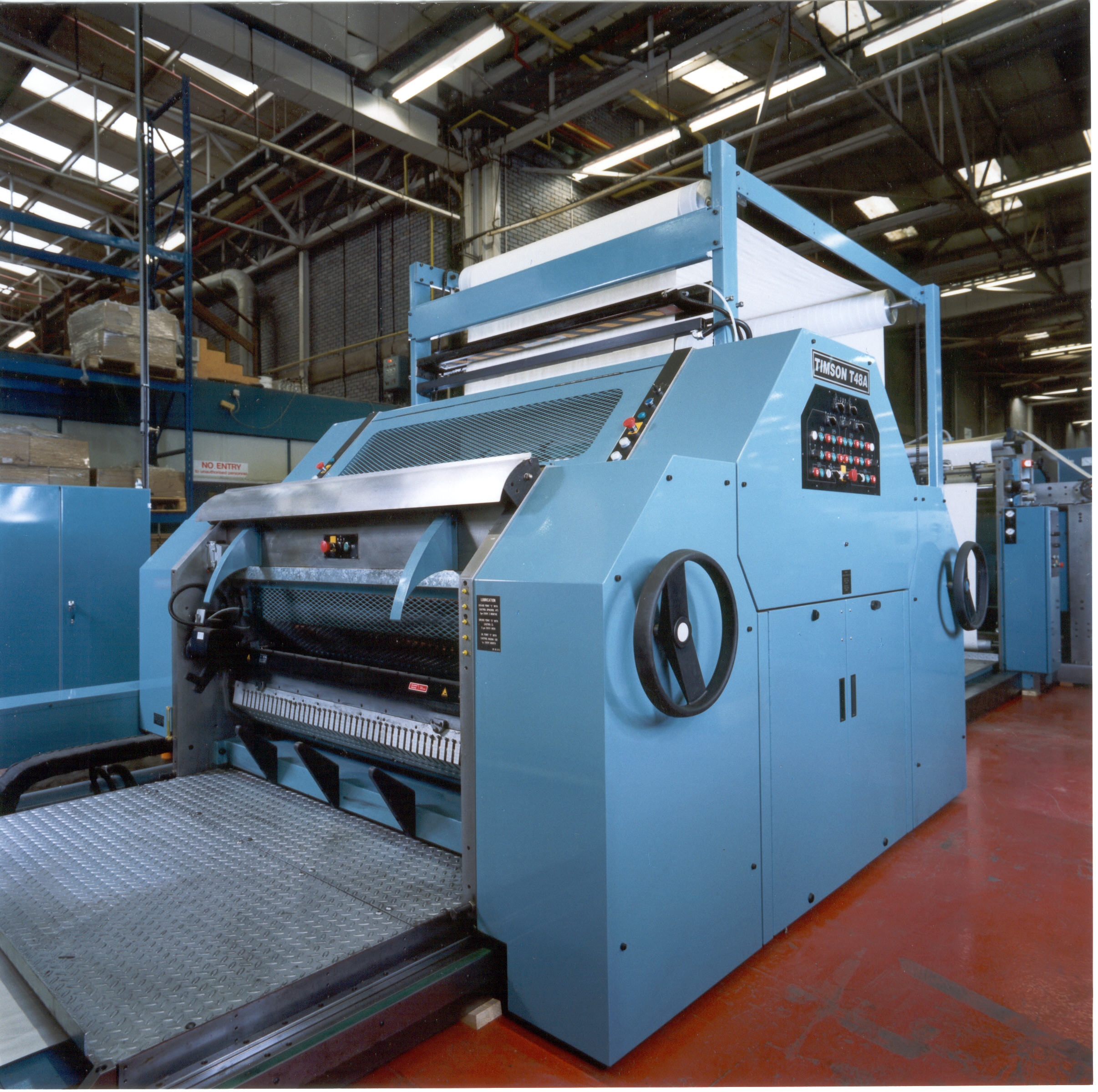 Today's flagship press is the T48A ZMR (Zero Make Ready), which helped the printer's dream of non-stop productivity become a reality, revolutionising the efficiency of short-run book printing. The ZMR's twin over-and-under printing units deliver zero make-ready on monochrome jobs. While one unit prints at speeds of up to 550m/min, operators can change plates on the second unit. As the active unit finishes printing, the second unit, having ramped up to synchronise web speed, immediately begins printing, minimising paper waste and lost production time.
The ZMR's quick make-ready saves time and money on a typical combination of text or halftone printing, however for extra versatility, you can also print high quality two-colour work. Although a two-colour run requires standard, semi-automatic make-readies, the T48A's two-colour capability widens the range of potential printing applications.
The T48A ZMR retains the legendary ability of Timson presses to handle a wide range of paper stocks from thin print, bible products up to high bulk offset. Running speeds of 550m/min mean that this press is highly productive for longer runs too.
Many T48As were designed with the possibility of being upgraded later to ZMR. If you are fortunate enough to have one of these presses and would like to discuss the possibility of upgrading it to ZMR we would be happy to discuss your available options.